Whomever you want to do a favor, the animals, the environment, your criminal record, or your wallet. Using a beamer to get a "digital" firework might be a good alternative to the "real thing" for you. Playing a YouTube video over a beamer is easy – but adding a countdown to your favorite video and positioning everything just right could be a challenge. That's why I decided to write down how I do it.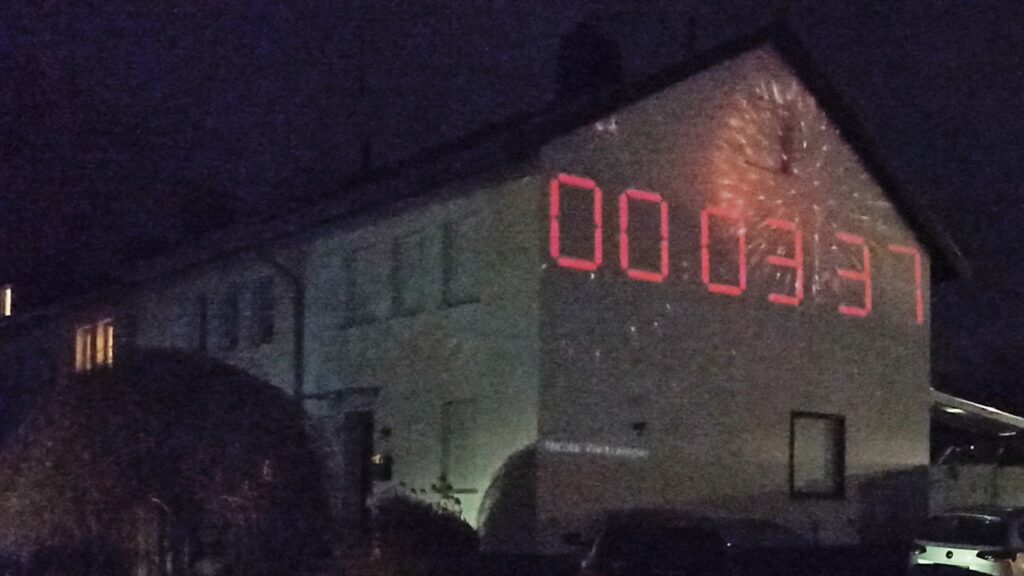 How it's done
Install OBS Studio
Pick a video background like this one and download it

Streaming it and using the browser window as a source works as well, but this method is susceptible to internet problems and might have worse performance in general
If you are on Linux, try youtube-dl or yt-dlp
Alternative video suggestions: 1

Choose a website to display your countdown. I suggest using the "countdown until tomorrow" from onlineclock.net

In contrast to their countdown to the new year specifically, you can set the background to black, which will allow you to select your own in a moment.

In OBS, add the video sources:

Add a video source for the background

If your video is not very long, enable the loop option

Add a window source for the timer

Make sure this comes before the video source in the sources list
Right-click on this source and choose Blending Mode → Additive to (effectively) make the black background of the timer window transparent, so you can see your background video behind

Arrange the sources on the canvas to your liking (by dragging them)
If necessary, crop the sources via right-click → Transform → Edit Transform or Ctrl+E

Connect your beamer and set it to extend (instead of mirror) your display
Right-click the active scene on the bottom left and choose Fullscreen Projector (scene), followed by the video output that goes to the beamer
The timer will disappear after it reaches zero, leaving the background video intact
How it could be improved
My beamer isn't particularly bright and is rather distant from the building it's projecting on. While sufficient in the dark night, a better beamer or better positioning would improve the viewing experience.
One could use a Bluetooth speaker, for example, to add to the realism.
By mapping the features of the targeted building (such as windows, doors, roof…), laser-show-like effects could be achieved.